Light Drive Test App
With the Light Drive Test App, SpeedChecker innovates and revolutionises Drive Test campaigns. To collect radio data on the field, you only need the Light Drive Test App and a smartphone. To analyse the data, internet and a computer are sufficient. It's even easier and more efficient than ever to analyse results.
Request your login / password to try the App and
the analysis tool for 1 month free of charge
Request access
Introducing the Light Drive Test App
Reduced drive test campaign costs
Speedchecker revolutionises Drive Tests by concentrating almost all physical test equipment in a software application. CapEx are minimised. With the App, a simple smartphone is turned into a powerful collection device, reducing the number of on-board equipments. OpEx is also streamlined, as testing complex setup is managed upstream once by the engineer during scenario creation. During the campaign, the tests are therefore autonomous and perfectly stable, allowing any unqualified person to carry out as many tests as necessary in different areas without any technical intervention.
Cost-effective Drive Test campaign
Speedchecker increases the profitability of Drive Test campaigns by increasing efficiency. Thanks to the App, the configuration time and the number of resources (mainly hardware) needed to perform the tests as a whole are drastically reduced. The application is continuously updated to improve the quantity and quality of data.
Always available, everywhere to anyone
The use of the App is intuitive and simplified, allowing use by all. The App can be downloaded on any smartphone and from any location. Thanks to its experience in the crowdsource industry Speedchecker allows everyone to accurately test any radio environment. A subscriber suffering from a degradation in quality can easily carry out a test and transmit essential information to the operator in order to simplify and speed up correction.
Reduction of implementation, collection and analysis times
Speedchecker guarantees a simplified operation of end-to-end test campaigns. From collection to analysis, the processes are made easier and more automated. Moreover, with the App there is no more cabling, less material transported and therefore fewer breakdowns. There are no more complex test initialisations, which increase error and failure rates. The architecture is transparent, allowing for quick implementation and efficient campaign control. Data is automatically transferred to the cloud, and data loss is eliminated. Analysis can be done in near real time of the collection. This allows more tests and corrections to be made in the same amount of time.
Installs and uses easily, intuitively
No training or knowledge is required to operate the App
Step 1
Download the Speedchecker Drive Test App on your mobile device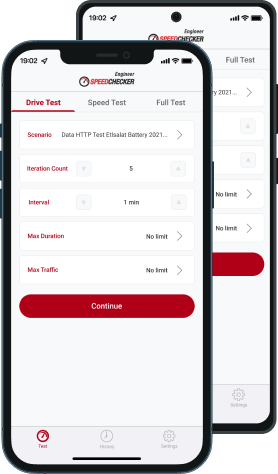 Step 2
Define scenarios and test types you want to run on your mobile devices directly from the web page
Discover more
Step 3
Launch App and select the scenarios for each mobile device. Start tests (To sync all UEs use clock mode)
In car drive tests/ Walk tests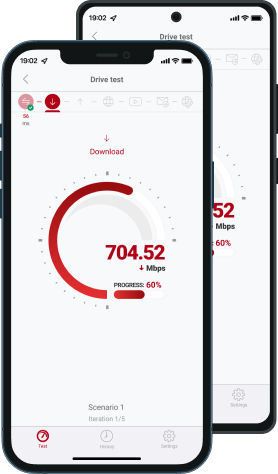 Step 4
Use a web page for analysis of the test results after they have been uploaded to the cloud. You can analyze your data quickly by using a default dashboard.
Discover more