Wi-Fi Scan use cases
1. User starts on the ISP website

White label speed checker on ISP website

The Wi-Fi Scan product can be used in several ways. In this example, the user can start the journey on their ISP website by using a web-based speed test. If the user is not satisfied with the result, the speed test offers to download a troubleshooting app. Using this troubleshooting app the user can get help or collect information and then pass it to the call center.
2. User contacts the call center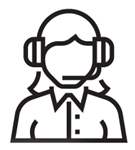 Call center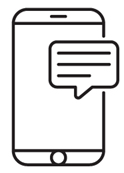 If the customer calls the call center directly our system can help to retrieve information about the customer's system in an efficient way. The system sends a text message to the caller containing a link to the App store, be it Google or Apple. If the user clicks on the link the app is quickly installed and the user is ready to run the test. The test results are displayed automatically on the agent's dashboard.